ODG 6 Bell Striking Competition Shipton Under Wychwood 7th October 2023
The Chipping Norton branch played host to the 6 Bell competition this year, and provided both excellent bells and a wonderful supply of tea, cake and bacon butties to ringers who travelled from 8 branches to take part. This was also the day of the inaugural raising and lowering competition which took place simultaneously.  Thank you to the Chipping Norton Branch for hosting two events, and also to Chris Mundy, who in his new role as Guild Deputy Master found himself with two events, not one to organise. Thanks also to the two stewards provided by the Branch – Chris Stevens and Andrew Pickett, who ensured that the ringing times were kept to.
The judges were Simon and Becca Ridley who, given the excellent weather, had use of the vicarage garden across the road, and to Kinsey their dog who was impeccably behaved.  After the eight bands had rung, Katie Lane the Guild Master thanked everyone who had made the day a success, and introduced the judges.  Simon Ridley thanked everyone for a very enjoyable afternoon and said the scores had been very close between the bands in the middle, meaning they had to listen back to recordings before making a final decision.  He also commented that there had been a wide variance in speeds between the bands.
The results were as follows, with judges comments (not in ringing order)
1st place Reading St Mary – peal speed 2.43. 38 faults. This was the fastest ringing of the day.  Only with minor faults at backstroke and very good tenor ringer.
2nd place  Newbury – peal speed 3.15, 43 faults.  This was a measured piece, with excellent leading.
3rd place Faringdon – peal speed 3.03, 51 faults. A very competent piece of ringing.
4th place Downs Barn – peal speed 3.05, 60 faults. Nicely paced and very good tenor ringing. A mistake near the end cost faults.
5th place Blewbury – peal speed 3.08, 65 faults. Solid and consistent ringing with the backstroke leads opening up occasionally.
6th place Amersham – peal speed 2.57, 66 faults. Improved throughout and excellent section in the middle. Some inconsistent leading.
7th place Hook Norton –peal speed 2.50, 75 faults. Excellent opening rounds, most faults were at backstroke and the pace was a little ambitious.
8th place Marston – peal speed 3.05, 85 faults. Pace sometimes inconsistent but settled half way through.  A couple of method mistakes.
Overall the judges said they had really enjoyed the quality of the ringing.  They also managed to try a wide selection of cake and declared the lemon drizzle the winner with the chocolate brownie and shortbread in joint second.
Lindsay Powell
Steward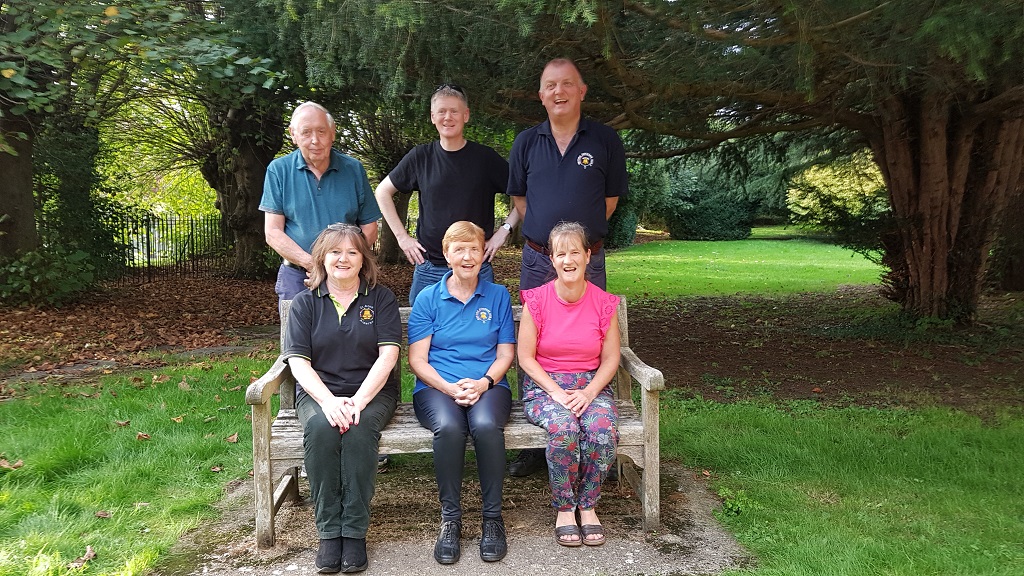 Reading St Mary anticlockwise from front left: June A Saint, June D Wells, Gillian Carlill, \stephen A Rossiter, Peter R Ellis (c), E John Wells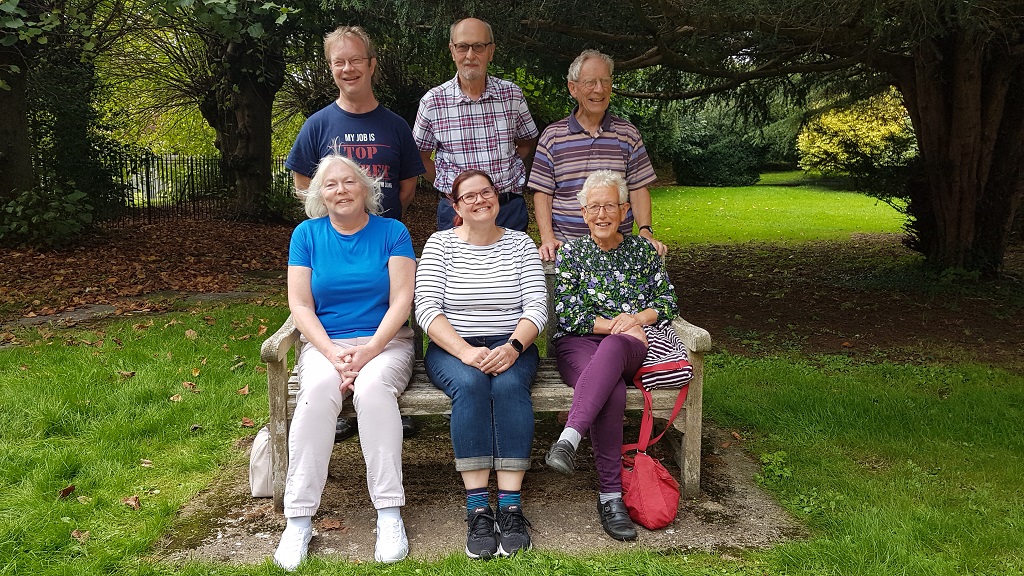 Newbury anticlockwise from front left: Jenny Skilton, Deborah Bebbington, Eleanor Rice, J Martin Rice, Tony Skilton (c), Andy Osborne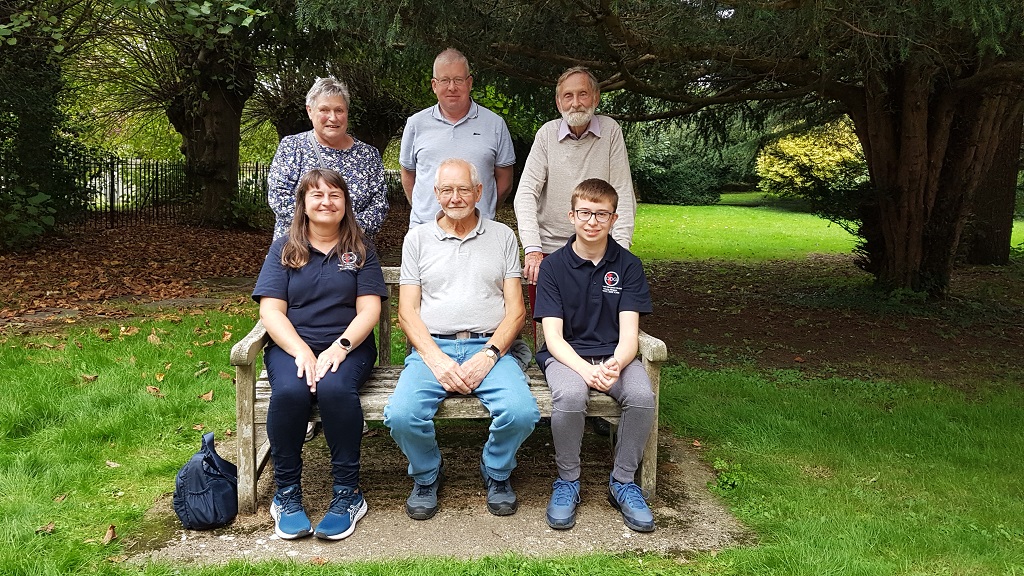 Faringdon anticlockwise from front left: Cheryl A Watson, Peter R Hunt, Daniel J Watson (c), Jonathan D Chamberlain, Julian T Watson, Doreen M Leslie
Peter Ellis receives the trophy for Reading St Mary from judges Simon and Becca Ridley.
OXFORD DIOCESAN GUILD SIX-BELL COMPETITION 2022
The annual competition for the silver cup is held each year at the beginning of October in one of the fifteen branches of the ODG. The 2020 competition didn't happen, for obvious reasons. It was good to have the opportunity, post lockdown to hold the 2021 competition which should have been in North Bucks Branch. Then came the petrol crisis and most of those who managed to make a team despite covid, decided they couldn't risk running out of fuel! Happily, the 2022 competition did take place, albeit with a below average entry of seven teams, on 1st October.
Our hosts were the Newbury Branch and we were made very welcome at St Mary's, Shaw-cum-Donnington. This is a lovely ornate church just to the North of Newbury. It is adjacent to Shaw House, an early symmetrical H-plan Elizabethan mansion and one of the best preserved Tudor buildings in England.
The bells are an easy-going 7cwt six but there was enough odd-struckness to challenge the teams. Our judges were Jason Carter and Gordon Belcher from Swindon. They made very helpful comments and were unanimous in their decision. The cup was awarded to the team from All Saints' Faringdon representing the Vale of the White Horse with 240 Grandsire Doubles. It was a very impressive piece of ringing and a credit to the band and particularly to Daniel, their teenage conductor! The full results, with the "podium" positions also earning certificates were:
– 1st Faringdon, All Saints: Vale of the White Horse- 10 faults
– 2nd Newbury St Nicolas: Newbury Branch – 14 faults
– Joint 3rd St Mary's Shenley & All Saints' Loughton: North Bucks – 16½ faults
– Joint 3rd Reading, Minster Church of St. Mary the Virgin: Reading Branch – 16½ faults
– 5th Wantage, Ss Peter & Paul: Old North Berks – 17 faults
– Joint 6th High Wycombe, All Saints': East Berks South Bucks – 23 faults
– Joint 6th Church Hanborough, Ss Peter & Paul: Witney & Woodstock Branch – 23 faults.
Below is a clip of the Faringdon team with Daniel Watson conducting.