Oxford Diocesan Guild of Bellringers
and
Oxfordshire Ringing School
working with

What we are
Oxon Ringing School is an ART Hub.
In September, Oxon Ringing School was formally registered as a Teaching Hub with the Association of Ringing Teachers (ART). Through this, we are committed to providing the following:
• Hold practices focused on the Learning the Ropes curriculum
• Support practices with theory, or hold theory workshops and other training events
• Work within ART Policies and Guidelines
• Ensure teaching is carried out under ART member supervision using ART Training Scheme techniques
• Introduce new ringers to the Learning the Ropes Scheme and offer to register them on the scheme
• Promote group teaching with an intensive teaching approach
• Support learning in other towers
We intend that this help us to continue and improve the delivery of good, consistent teaching of bell handling, foundation and more advanced ringing skills across our Ringing Centres. We are now listed under the ART site: https://bellringing.org/2023/09/20/oxon-ringing-school/ 
News
ART Teaching Course – Module 1 Bell Handling – Dorchester Abbey, Oxfordshire
What we do
Oxon Ringing School provides extra teaching sessions for those learning to ring church bells in and around our Branches. We offer one-to-one and group teaching of bell handling and foundation skills from our four centres: Abingdon, Dorchester, Kirtlington and Witney.
Our aim is to help the learners to learn to handle a bell more quickly so that they are able to take a more active part in ringing in their own towers earlier. We normally run two sorts of sessions:
Bell Handling Ringing School: Weekly one-hour sessions to teach bell handling with up to four learners taught to handle a bell on a one-to-one basis on Saturday morningsFoundation Skills Ringing School (usually only in summer) involving weekly visits to practice nights at towers in our areas to learn the foundation skills needed before starting to ring plain hunt. It is important that the ringers local to each tower visited should attend the practice and help by joining in with the ringing organised that evening.
Syllabus: ART Learning the Ropes
The syllabus of the Association of Ringing Teachers (ART) is followed. Each learner will purchase a copy of the Ringers Personal Progress Logbook (£3) which will be completed by their teachers as they progress through the Learning the Ropes scheme. They may also purchase the Ringers Guide to Learning the Ropes, a step-by-step guide for ringers from bell handling through to ringing Plain Bob Minor inside (£7).
Course fees 
Bell Handling:  For one hour of training one to one a donation of £5 for the rope fund of the church visited is expected.
Foundation Skills: When visiting a practice night, it is usual to donate around £2 to the rope fund of the church visited.
Ringing Teachers
Our sessions are led by teachers, comprising those who are ART trained, but also several who have not attended ART courses but who are very experienced teachers of ringing.
Experienced ringers are invited to attend one day training courses run by ART.  The courses are suitable for those who already teach bell handling and want to update their skills AND for those who have never taught anyone to handle a bell.  After the course, the new teachers may gain experience and confidence by teaching under supervision at the Oxon Ringing School in preparation for assessment and possible accreditation by ART.
How do I enrol?
Register as an adult student – complete this online form.
Register as a person under 18 years of age – complete this Permission to Ring form.
Register as a teacher, irrespective of whether you have received ART training. Please complete this online form.
Once enrolled, you will be invited to indicate your availability for upcoming teaching sessions as a student or as a teacher.
We will notify members on a weekly basis of the upcoming rota of teachers and students allocated to the next four weeks' sessions.
Forthcoming ART Courses
ART Teaching Course – Module 1 Bell Handling – Dorchester Abbey, Oxfordshire
Testimonials from our students
"Excellent" (X2)
"Really value the patience and time given by excellent Teachers. Each teacher has different strengths and ways of explaining things to help."
"Really enjoy and appreciate the sessions. "
"It's really good for both learners and teachers who are gaining experience."
"Brilliant!"
"Tutors are very patient every one is welcoming."
"It's brilliant!! Excellent teachers and the method and progression is logical and helpful."
"Really helpful, friendly and experienced trainers, enjoyed meeting other trainees at a different venue, making positive progress as a result."
"I've really enjoyed the 1to1 and interested in viewing various towers."
"Runs smoothly"
"I am enjoying the one to one and interesting how different people teach, am picking up more than I thought". 
Meet the Team 
Susan Read, Abingdon Ringing Centre Lead, Old North Berks Branch. Susan started the first Ringing School at Abingdon in 2016 and also runs the Oxfordshire Young Ringers group. Susan is accredited in handling, Foundation and method teaching modules and has been a full ART member for over ten years.  
Contact Susan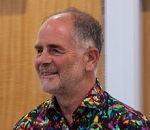 Nick Forman, Dorchester Ringing Centre Lead, South Oxfordshire Branch. Nick is accredited in ART Handling and Foundation teaching modules and has full ART membership. 
Contact Nick  
Steve Vickars, Kirtlington Ringing Centre Lead. Steve is Training Officer for Bicester Branch, is accredited in ART handling, Foundation and method teaching modules and has full ART membership. 
Contact Steve 
Andrew Goldthorpe, Witney Ringing Centre Lead. Andrew is Secretary of the Witney & Woodstock Branch, is on the ODG Committee as Web Master, is accredited in ART handling and Foundation teaching modules and has full ART membership.  
Contact Andrew 
Barbara Summers
Oxfordshire Ringing School Administrator. Barbara is Tower Captain at Tackley in the Witney & Woodstock branch.  
Email: Oxon Ringing School Administrator
More about ART
The Association of Ringing Teachers (ART) runs courses for learners and teachers. See their website here.