The Guild has acquired a few sets of eBells which are available for loan to members as a sort of 'try before you buy' scheme. Here is a picture of the ODG eBells with Oxford Diocesan Guild embossed on the top of the handle.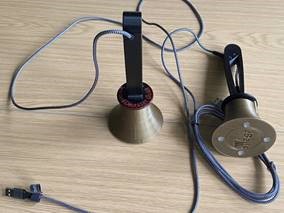 For those of you who do not know what eBells are, information including a handy video can be found at this link: https://ebells.co.uk/ and for their companion software package Handbell Stadium here: https://handbellstadium.org/
The bells can be used to operate the Abel Software and can also be used in Ringing Room in place of keyboard input. All you need is a Laptop/PC or Mac device with two free USB ports (or a USB Hub), and the Handbell Manager software which can be found on the eBells website. Technical support can be made available for anyone who gets stuck.
If you are interested in borrowing a set of these bells in exchange for a small returnable deposit, please contact the Treasurer, Stuart Gibson via email at treasurer@odg.org.uk
Colin Newman
ODG L&D Workgroup Chair