In the intervening 110 years since his death much has been written about the Revd. F.E. Robinson; he is a legendary figure in the history of the ODG and his name and legacy continue to be spoken about with respect and awe. William Butler, in his book '100 Years of the Oxford Diocesan Guild' provides succinct details:
'F.E. Robinson was one of the founders of the Oxford Diocesan Guild of Church Bellringers. At the meeting in Reading on 13th November 1880 to consider the formation of a Guild, it was Robinson who, when it came to electing a committee, rose from the floor with a prepared list of names of who should be on it. The list included 7 clergymen and 7 well-known ringers. It included Robinson himself, who was both a ringer and a clergyman. At the inaugural meeting in Oxford on 17th January 1881 Robinson was duly elected as the Guild's first master, a position that he held until his death 29 years later in 1910. He is buried in Wokingham All Saints churchyard.'
In 1878 F.E.R. became the Vicar of Drayton and it is there that, on 22 May 2016, a Blue Plaque was unveiled by the Most Revd Colin Fletcher, Bishop of Dorchester.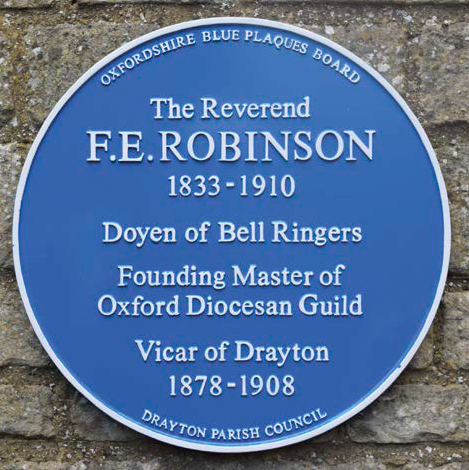 And there the narrative ended, or so we thought, until November 2020 when a totally unexpected email arrived from the solicitors who had been engaged to settle the Estate of FER's granddaughter. It read: Under the terms of the Will, Kathleen Mary Frances Robinson left you (the ODG) a 'FE Robinson' commemorative silver bowl.
This required further investigation and I was put in contact with Elizabeth Lydekker to whom I am most grateful for providing so much additional information and for her patience when decisions about the future of the bowl were made. Elizabeth is Revd. Robinson's great- granddaughter descending from his daughter Margaret. She provided a very simple family tree showing Rev Robinson's children and grandchildren, with their dates. Kathleen Robinson, who bequeathed the Bowl, was Revd. Robinson's last living grandchild. She was born in 1933 and daughter of Reginald.
There followed many months of correspondence. Little was known about the bowl, what did it look like, various family members recalled seeing it and knew that Kathleen, being the most recent custodian, had kept it safe. But where was it to be found among her possessions? There must have been some anxiety among family members because Elizabeth has written to me 'It reminded me how nearly we never found the Bowl, so carefully hidden by Kathleen who, to my surprise, turned out to be a terrible hoarder. It took well over two months of sorting to find it!! Wouldn't it have been awful if it had disappeared with the House Clearance Company ….'
Now, we had only to wait until Covid loosened its grip a little, and Elizabeth and I set a date to meet. The inauspicious setting was Chievely Service station…perchance not so inauspicious because FER's brother, John Elial Robinson, was Vicar at Chieveley so perhaps FER saw the Service Station when it was open fields.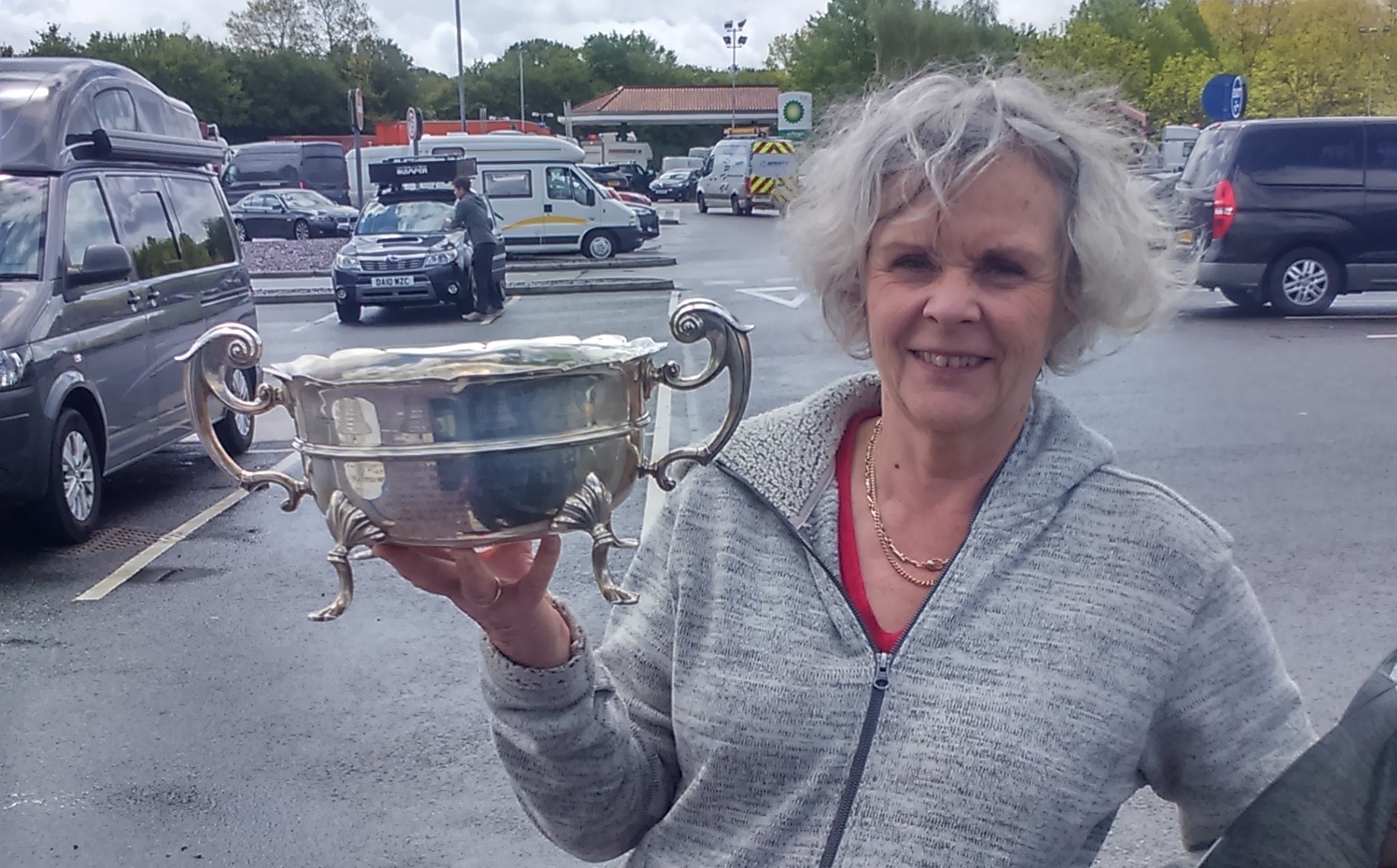 For both of us, FER's great granddaughter and me, the handover moment was unexpectedly emotional. As Elizabeth said in a later email 'I suppose it was the thought that the ODG had commissioned the Bowl over 120 years ago and there we both were each representing FER's family and the Oxford Diocesan Guild of Church Bellringers after all those years. A special moment!'
It was indeed a very special moment and deserved a grander venue than a motorway service area! FER would have been surprised, but pleased at the same time, I am sure. It was not until I had the bowl in my hands that I could see the inscription that it had been presented to the Revd F.E. Robinson, by many members of the Guild, within a few months of the end of the nineteenth century on 17th July 1899 during the 19th year of his Mastership.
The ODG hold him in great respect, and I have promised the Robinson family that we will make careful decisions about the future of the precious bowl; it will be looked after and venerated. The number of times that I have read about his ringing achievements in towers and never for one moment thought that I would take custody of his commemorative award, or be with his family and in his presence. It is an honour to have a connection with his history.
It was a pleasure to meet Elizabeth, and, on behalf of the 21st century members of the ODG, I thank all the family descendants for the wonderful bowl to remember the part F.E. Robinson paid in the history of the Guild. Indeed, he was a remarkable ringer and Master.
By: Katie Lane, Master ODG.