The Oxford Diocesan Guild of Church Bell Ringers and the Oxford Society of Change Ringers joined together to celebrate the 400th anniversary of the Oxford Botanic Garden by ringing bells in Oxford city centre and beyond.  At lunchtime on the hot July day bells were rung from Magdalen College tower and St. Giles church.  On the same day, and often at the same time, bells could be heard throughout Oxfordshire recognising the history and community of the Botanic Gardens and English change ringing.
Magdalen College
Magdalen College – Ringing clip 1
Magdalen College – Ringing clip 2
Magdalen College – Ringing clip 3
St Giles Church
We had 12 ringers at St Giles to ring for the Botanic Garden Anniversary at 13:15 today – a particularly satisfying achievement for me, having visited the Gardens from time to time for over 70 years, having a first degree and a doctorate in Botany from the University of Oxford, and also being a member of the Friends of the Gardens.
John Pusey, Tower Captain, St Giles church, Oxford, Oxfordshire
Friday, 15 July 2022 (14–0–1 in F♯)
Rounds, Call Changes, Plain Hunt on 7 and on 8
Jane Bishop
Samuel Fuentes
Mark Hunter
Clare Jakeman
Stephen Jakeman
Geraint Jones
Alison T Merryweather-Clarke
John G Pusey
Susan E M Read
Amelie Wymer
Kathy Xu
Sts Peter and Paul, Aston Rowant
Friday 15th July 2022
1260 Grandsire Doubles
1: Wendy Hawkins
2: Kay B
3: Paul Smith
4: Gordon Smith
5: Robert Newton (C)
6: Patricia Newton.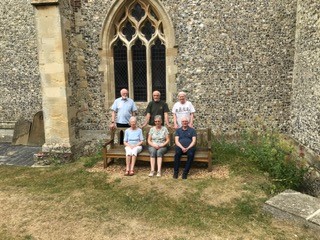 Longcot, Oxfordshire
St Mary the Virgin
Friday, 15 July 2022 in 44m (8–1–24 in A♭)
1260 St Simon's Bob Triples
1 Lisa Ryan
2 Joe Norton (C)
3 Julian T Watson
4 David A J Endacott
5 Lindsay Powell
6 Daniel J Watson
7 Rosanna Cretney
8 Alison T Merryweather-Clarke
First in method: 6.
Rung for the 400th anniversary of the Oxford Botanic Gardens.
Background
Early this year the ODG and the Oxford Society were contacted by the Digital Content Officer from the University of Oxford Botanic Garden and asked to ring all the bells in Oxfordshire for their 400th Anniversary.  During the early months of 2022, members of the PR working group had Zoom meetings with him and explained a little about bell ringing to him.  He was motivated to film young ODG ringers and attended one of the practices that Susan Read and her enthusiastic helpers organise on a Sunday afternoon.  He spent a couple of hours with us which has resulted in the great footage which is on the Botanic Garden website as well as ours; the young ringers did us proud!   Susan gave him his first experience on the end of a rope so he could better understand what the children were doing. I think, 'Respect', was his astonished reaction. His request for ALL the bells was a tall order,  but several towers in the city and Oxfordshire have marked the occasion.
Please follow this link to view the video:  https://www.obga.ox.ac.uk/400th-anniversary-bell-ringing