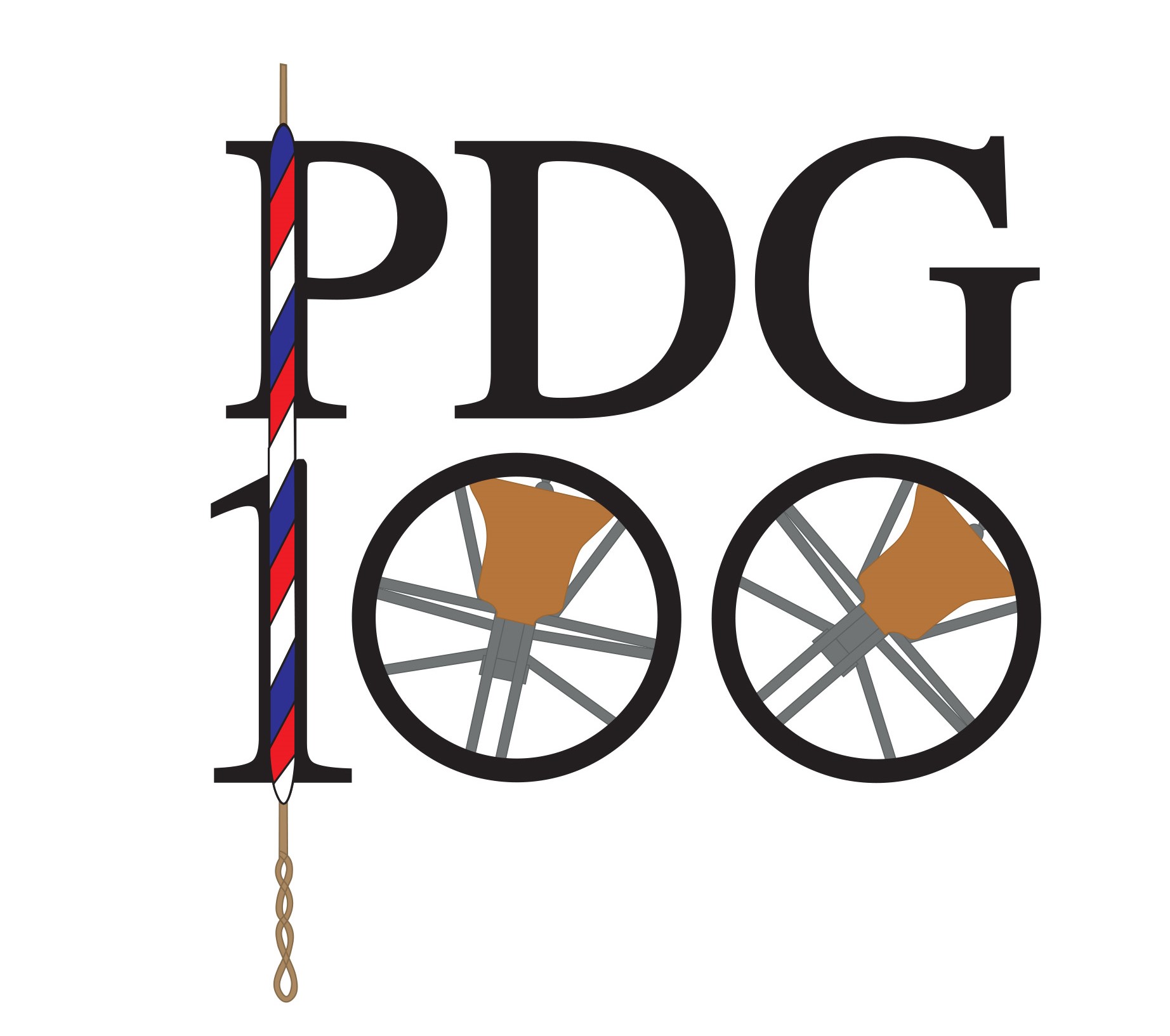 The Peterborough Guild was founded on 5th January 1924, from a rag bag of smaller societies. Compared to the majority of the neighbouring societies, the PDG is a youngster, only Leicester DG was formed later. However it seems a notable milestone and we intend to mark it with a range of events across the year and birthday cake. After all, the Guild can only turn 100 once. A small committee has been working hard to produce a series of events each month as well as anniversary merchandise. A logo for the anniversary has been produced, something very different from our usual logo.
Merchandise available for the anniversary has also been produced https://pdg.org.uk/pdg-100/centenary-year-merchandise. This includes a calendar. In A4 spiral bound format this includes a full page image of a tower in the diocese as well as a calendar in A4 landscape format for you to record you hectic social schedule. It includes the anniversary events already filled in, so no excuse for forgetting! These are £5, with postage in the UK an extra £2. Towers features are: Ashley, Barnack, Bugbrooke, Cold Ashby, Dingley, Fotheringhay, Glaston, Nassington, Peterborough Cathedral, Rushden, Upper Boddington, Wadenhoe, Whittlebury & Wilbarston.
After re-discovering the quiet satisfaction of jigsaw puzzles in lockdown, the Guild commissioned a local artist to produce a painting showing the diocese and the features of the area, including a number of towers. Available in both 500 and 1000 piece sizes, the busy image should make for a good puzzle. The 500 piece size is £15, while it is £20 for 1000 pieces. Postage would be extra, please contact to discuss delivery options.
Mugs with the logo on a white background are £5 (collection only on these) while clothing with the anniversary logo is available to order. While the first order is being placed shortly, there will be further orders placed during 2024. Clothing with the anniversary logo will only be available during 2024, so don't delay too long and miss out.
The Guild usually has 3 events in a year, in 2024 there's going to be something every month. Some ringing, some not, hopefully something for everyone. See the table for dates and locations.
| | | |
| --- | --- | --- |
| Sunday 14th January 2024 | Peterborough Cathedral | Guild Choral Evensong |
| Saturday 10th February 2024 | Moulton Village Hall | Social Event |
| Saturday 9th March 2024 | Nene Valley around Thrapston and Oundle | Nene Valley Challenge |
| Saturday 13th April 2024 | Guilsborough Branch | Spring Festival |
| Saturday 11th May 2024 | Across the Guild | Guild Open Day |
| Saturday 8th June 2024 | Northampton | Guild AGM Day |
| Saturday 13th July 2024 | Stanwick Lakes | Day Out |
| Saturday 10th August 2024 | Around Rutland Water | Tour and Picnic |
| Saturday 14th September 2024 | Daventry Branch | Summer Festival |
| Saturday 12th October 2024 | Kettering Park Hotel | Guild Centenary Dinner |
| Saturday 9th November 2024 | Syresham Village Hall | Quiz Night and Fish & Chip Supper |
| Saturday 28th December 2024 | Towcester | Carol Service |
The Guild was founded on 5th January 1924, so January starts with ringing and evensong service in Peterborough Cathedral.  This will be followed by a reception that will include a ceremonial cutting of  "birthday" cake.  February is a social evening with barn dance and ploughman's supper, with other entertainment for the less mobile. In March there's an opportunity for up-and-coming ringers with the Nene Valley Challenge where they set themselves a personal ringing target to be completed at a number of towers.  April is the Guild's six-bell striking competition for individual towers to enter.  In May we hope to welcome many visitors to our Guild as we hold an Open Day featuring a number of "rare" towers and ones that have been recently augmented (look out for an advert in a later edition of the RW).  June is traditionally AGM month and for this year it will be in Northampton town centre churches including St Peter's which is next to the new National Ringing Centre site.  As a venture there will be a day out at Stanwick Lakes – one of Northamptonshire's many country parks one Saturday in July with a mini-ring, handbells and a Wombell.  As well as being a great day out, this should be a good public relations exercise and maybe lead to some new recruits.  August has a mini tour visiting towers around Rutland water and then joining for a picnic on its shores.  September is the Summer Festival, the third and final regular meeting month incorporating the inter-branch eight-bell striking competition, hopefully with all ten branches entering a team this year. In a return after a number of years in abeyance, October sees a formal dinner – these used to be a regular occurrence but have not taken place for many years so it seemed an ideal opportunity to reinstate them.  As we head back into the dark months, there is a return to indoor activities, a quiz with fish & chip supper in November then finish the year with a carol service in December. The website will be updated with timings and more information as we work through the year. https://pdg.org.uk/pdg-100
In order to gauge numbers (and not run out of cake, please express interest for events and merchandise through the e-mail address centenary@pdg.org.uk Do get in touch and join in our centenary celebrations.